Let's build tomorrow's transit for better lives in smarter cities
NAVINEO, an offer from EQUANS, empowers public transport operators to improve the daily lives of their passengers.
We provide CAD/AVL and intelligent transportation systems to make public transportation more sustainable, more attractive, more efficient, more innovative and more secure.
NAVINEO solutions are currently in use in over 50,000 installations on buses, light rail and heavy rail applications worldwide.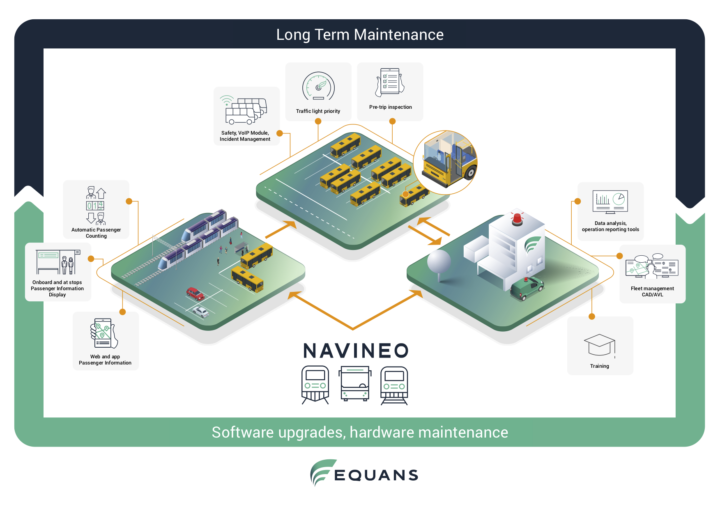 NAVINEO SOLUTIONS FOR A MOBILITY:
-MORE sustainable
-More comfortable
-More efficient
-More innovative
-More secure
EQUANS is a multi-service company that employs 74,000 people and offers its expertise worldwide. Present in several industrial sectors, it strongly evolves in transport. At EQUANS Transport, we see public transport as a key factor in the attractiveness of cities and regions. EQUANS Transport designs, builds, maintains and delivers infrastructure, and digital solutions & products. As a reliable partner in all phases of complex projects, its teams provide integrated and
tailor-made turnkey solutions for its international customers.
EQUANS ́ transport activity is based on the knowledge and know-how of its subsidiaries with their wide range of public transport services. Bringing together 2,700 public transport experts, EQUANS' decentralised organisation enables its teams to carry out operations throughout the world.